Research  through  Jewellery
Premises of LAO – Via dei Serragli 104
Next to the works of LAO teachers and students, presentation of the project curated by Roberta Bernabei, Professor at the School of Design and Creative Arts, Loughborough University.
C'è modo e moda
Firenze è un gioiello
Limonaia di Palazzo Medici Riccardi  – via Cavour, 5
Exhibition-competition of goldsmiths from Tuscany about "Memory recovery with a look to the future", selected by a jury, organised by the partner CNA Firenze.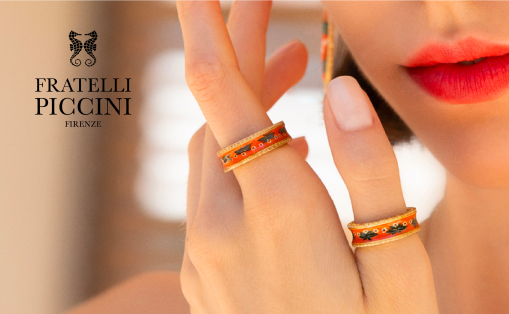 Fratelli Piccini Boutique
On the Ponte Vecchio since 1903
28-29-30 April
Themed showcases with the presentation of the "BLOOM" collection, dedicated to rebirth.
Open visits to the Boutique and the laboratory.
Reservations on 055 294768.
On the 29th at 5.00 pm, meeting with the creative director Elisa Tozzi Piccini, who will show guests some jewels of particular artistic and artisan interest, in addition to the Bloom collection.A toast will follow to celebrate this meeting opportunity.
Unusual Artisanal Florence
29th April 2022 (from 3.00 p.m. to 6.30 p.m.)
curated by Confartigianato Imprese Firenze
A tour between Florentine artisan excellences Each visit will last about 20 minutes; during this time every artisan will show their works to explain everybody the special technics they use. The itinerary will end on one of the most wonderful panoramic terrace of Florence.
The excellences are: Dini Caffè srl (Artisan coffee roasting), Moleria Locchi srl (glass and crystal craftmanship), Julia Markert (frames-gilding-restoring antique Italian frame collection), Pestelli Creazioni (goldsmith), Le pietre nell'Arte di Scalpelli Renzo e C. snc (semiprecious stones manufacture), Penko Bottega Orafa (goldsmith), Hotel Medici.
Reservations are open from now until 04/29 at 15.00 unless early closure